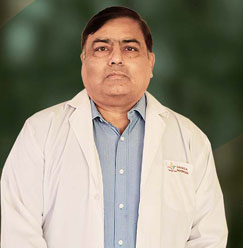 Name: Dr. Anil Joshi
Designation: Head of Department, Orthopaedics & Joint Replacement
Experience: 23+ Years of Experience
Specialty: Orthopaedics 
Qualification:  
MBBS
MS (Ortho), BVP, Pune
Membership and Award:
Indian Medical Association
Indian Orthopaedic Association
Air Vice-Marshal MM Sri Nagesh Silver Medal for securing first position in Surgery in MOJC, 1983 – Army Commander's Commendation Card (Western Command), 1997
Area of Interest:
Arthroplasty- knee and hip replacement surgeries
Arthroscopy- knee, hip and shoulder
Advanced & complicated trauma surgeries
Spine surgeries
Location: Noida
Nationality:  Indian      
About:
Served 23 years in the Indian Army (Army Medical Corps) General Surgeon 29 years experience Orthopaedic Surgeon 21 years experience Worked as Surgeon in prestigious institutions like Command Hospital (Western Command, March 1986-March 1987) Command Hospital (Northern Command, April 1989-Dec 1991) Military Hospital (Jalandhar, Jan 1994-Oct 1997) Base Hospital (Delhi, Oct 1997-Feb 2001) Worked as an independent Orthopaedic Surgeon at Military Hospital (Jalandhar). He has also worked in a 200 bedded orthopaedic centre at Base Hospital (Delhi).
He has started Closed Interlocking Nails for Forearm Bones and USS Spinal System for posterior spinal fixation of spine in the Northern Region for the first time. TEACHING EXPERIENCE – More than 15 years. I have taught under graduate and post graduate students in teaching hospitals of Indian Army like Command Hospital (WC), Command Hosp.(NC) Military Hosp.(Jalandhar) and Base Hosp. (Delhi). Working as professor & HOD, (joint replacement surgeon) Deptt. Of Orthopaedics Rama Medical College, Hapur- UP, since 3 years. of Exprience
Professor and HOD
---
Disclaimer: GoMedii is a recognized and a considerate healthcare platform which tends to connect every dot of the healthcare needs and facilities. GoMedii facilitates the accessibility of all health news, health tips, and information from the Health experts and Doctors to the eyes of readers. All of the information and facts mentioned in the GoMedii Blog are thoroughly examined and verified by the Doctors and Health Experts, elsewise source of information is confirmed for the same.
---
About GoMedii:
GoMedii is a Healthcare Technology Platform That Works Out Your Treatment / Surgery the Way You Need & Plan. A Treatment partner that simplifies the patient journey at every step. Drop Your Queries for the most affordable & world-class treatment options.You may simply download the GoMedii app for Android or iOS.