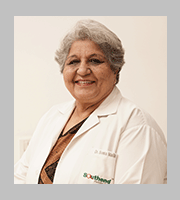 Name: Dr. Sonia Malik
Designation: IVF Specialist, Nova IVF 
Experience: 30+ Years of Experience
Specialty: IVF Specialist
Qualification:  
Membership and Award:
IMA KANAK GOEL AWARD 2007,
IMA SDB, Meritorious Service Award, 2012
IMA Lifetime Achievement Award, 2015
Delhi Govt. Best doctor PNDT Cell, 2016
Lifetime Achievement Award ACE, 2019
IMA Lifetime Achievement Award HAR GynOb, 2019
Co Chair, International School for Menopausal studies, 2008 – 2011
Chief Editor Journal of Midlife Health, 2009 – 2012
Academic Collaborator, Cleveland clinic USA, 2010 – 2014
Member task Force ICMR for research in Genital Tuberculosis,2010 – 2018
Member ICMR PCOS Research Cell, 2015 – 2017
Area of Interest:
IVF
ICSI
IMSI
Reproductive Endocrinology
Immunology,
Genital Tuberculosis and
Premature Ovarian Failure.
Location: Noida
Nationality:  Indian      
About:
Dr. Malik is one of the pioneers in the field of infertility in India. A veteran obstetrician and gynaecologist with specialization in Assisted Reproductive Technology (ART) & IVF, she has always dreamt of helping people and fulfilling their dream of having their own child.
Her area of expertise is in Advances in Assisted Reproductive Techniques (IVF, ICSI, IMSI), Reproductive Endocrinology & Immunology, Genital Tuberculosis and Premature Ovarian Failure.
Dr. Malik holds an M.B.B.S, DGO and an MD degree from Maharishi Dayanand University, Rohtak. She carries with her a professional experience of more than 3 decades and has executed over 7000 ART cycles. She has also practiced in countries like Iraq and Saudi Arabia and is proficient in English, Hindi, Punjabi & Arabic.
She has been the President, Indian Fertility Society, Chair – Infertility Committee, FOGSI, President Indian Menopause, Associate Editor, South-East Asia, Journal of Global Health, IFFS. She has also been Member Editorial Board Fertility & Sterility India, Member Editorial Board Journal of Reproductive health and Medicine, Editorial Board Journal of Fertility Science & Research & Editor in Chief, Journal of Midlife Health. She is also Member, ICMR Task Force on Genital Tuberculosis.
---
Disclaimer: GoMedii is a recognized and a considerate healthcare platform which tends to connect every dot of the healthcare needs and facilities. GoMedii facilitates the accessibility of all health news, health tips, and information from the Health experts and Doctors to the eyes of readers. All of the information and facts mentioned in the GoMedii Blog are thoroughly examined and verified by the Doctors and Health Experts, elsewise source of information is confirmed for the same.
---
About GoMedii:
GoMedii is a Healthcare Technology Platform That Works Out Your Treatment / Surgery the Way You Need & Plan. A Treatment partner that simplifies the patient journey at every step. Drop Your Queries for the most affordable & world-class treatment options.You may simply download the GoMedii app for Android or iOS.