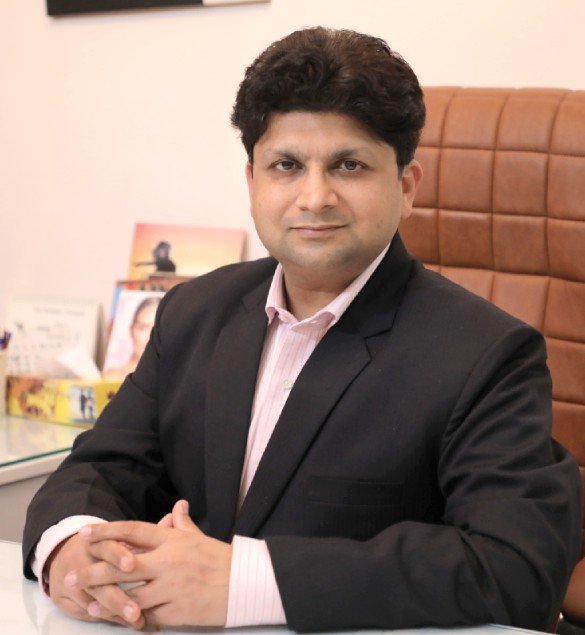 Name: Dr. Ashish Khare
Designation: Senior Consultant Department of Plastic Surgery, Medanta
Experience: 15 + years
Specialty:  Plastic Surgery
Qualification:   MBBS, MS, Mch 
Membership and Award:
Fellowship, Aesthetic Medicine, Institute of Laser and Aesthetic Medicine

Fellowship, 2015, Reconstructive Microsurgery, Medanta Hospital, Gurgaon

MCh, 2014, Sawai Maan Singh Medical College, Jaipur

MS, 2009, Lady Hardinge Medical College, New Delhi

MBBS, 2005, University College of Medical Sciences & GTB Hospital, New Delhi
Area of Interest: 
Hair Transplant Surgery

 Liposuction

 Abdominoplasty, 

Gynecomastia Surgery, 

Facelift surgery, 

Browlift, Nerve injury,  

Brachial plexus injuries
Location: Delhi NCR
Nationality:  Indian    
About:
Dr. Ashish Khare is a cosmetic and plastic surgeon with 15+ years of experience. He is internationally trained hair transplant surgeon and has expertise in Hair Transplant Surgery, Liposuction, Abdominoplasty, Gynecomastia Surgery, Six-pack Abs, Rhinoplasty, Scar Revision Surgery, Eyebrow Transplant, Facelift surgery, browlift, nerve injury, hypospadias, brachial plexus injuries, neck lift, thigh lift and more.
He is an active member of APSICON (Annual Conference of Association of Plastic Surgeons of India). Dr. Khare has completed his MBBS from University College of Medical Sciences, New Delhi, MS in General Surgery from Lady Hardinge Medical College, New Delhi and MCh in Plastic and Reconstructive Surgery from Sawai Maan Singh Medical College Jaipur.He has done specialized training and fellowship in Reconstructive Microsurgery from Medanta Hospital Gurgaon, fellowship in Aesthetic Medicine (FAM) from the Institute of Laser and Aesthetic Medicine (Recognized and affiliated to University of Greifswald, Germany) and fellowship in hair transplant.
---
Disclaimer: GoMedii is a recognized and a considerate healthcare platform which tends to connect every dot of the healthcare needs and facilities. GoMedii facilitates the accessibility of all health news, health tips, and information from the Health experts and Doctors to the eyes of readers. All of the information and facts mentioned in the GoMedii Blog are thoroughly examined and verified by the Doctors and Health Experts, elsewise source of information is confirmed for the same.
---
About GoMedii:
GoMedii is a Healthcare Technology Platform That Works Out Your Treatment / Surgery the Way You Need & Plan. A Treatment partner that simplifies the patient journey at every step. Drop Your Queries for the most affordable & world-class treatment options.You may simply download the GoMedii app for Android or iOS.