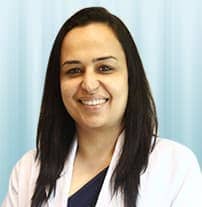 Name: Dr. Nymphaea Walecha, Fortis|Ridge
Designation: Senior Gynecologist
Experience: 16+ Years of Experience
Speciality: Infertility Specialist
Qualification:  
MBBS,
MS – Obstetrics & Gynaecology
Membership and Award:
Indian Medical Association
Delhi Medical Council
28522 Delhi Medical Council, 2005
Area of Interest:
Infertility Specialist
Gynecologist
Obstetrician
Location: Noida
Nationality:  Indian      
About:
Dr. Nymphaea Walecha is a Infertility Specialist,Gynecologist and Obstetrician in Shastri Nagar, Delhi and has an experience of 16 years in these fields. Dr. Nymphaea Walecha practices at Ridge Fertility And IVF Center in Shastri Nagar, Delhi. She completed MBBS from Maharshi Dayanand University, Rohtak in 2000 and MS – Obstetrics & Gynaecology from Maharshi Dayanand University, Rohtak in 2005.
She is a member of Delhi Medical Council. Some of the services provided by the doctor are: Laparoscopic Gynaecology,Complicated Pregnancy Treatment,Gynaec Laparoscopy and Gynaecological Endoscopy etc
---
Disclaimer: GoMedii is a recognized and a considerate healthcare platform which tends to connect every dot of the healthcare needs and facilities. GoMedii facilitates the accessibility of all health news, health tips, and information from the Health experts and Doctors to the eyes of readers. All of the information and facts mentioned in the GoMedii Blog are thoroughly examined and verified by the Doctors and Health Experts, elsewise source of information is confirmed for the same.
---
About GoMedii:
GoMedii is a Healthcare Technology Platform That Works Out Your Treatment / Surgery the Way You Need & Plan. A Treatment partner that simplifies the patient journey at every step. Drop Your Queries for the most affordable & world-class treatment options.You may simply download the GoMedii app for Android or iOS.